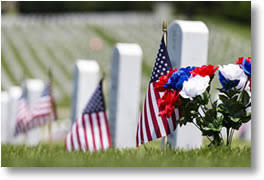 Gov. Dennis Daugaard signed Senate Bill 91 to establish a new state veterans cemetery in East River South Dakota. The law authorizes the Department of Veterans Affairs to provide for the design and construction of a cemetery in Minnehaha County on land donated by the City of Sioux Falls.
"This new veterans cemetery will give veterans a final resting place close to their homes and families," said Gov. Daugaard. "This cemetery has been a longstanding goal of veterans organizations, and I am pleased to see it come to fruition."
The legislation creates the South Dakota Veterans Cemetery endowment fund within the South Dakota Community Foundation. The endowment fund will provide a fund for any person who wishes to contribute to the construction and operation of the South Dakota State Veterans Cemetery. The foundation's goal is to reach $3 million by July 2023.
In addition, the state has appropriated $450,000 from the general fund and $6 million in federal fund expenditure authority to the Department of Veterans Affairs for the purpose of creating the cemetery.
Senate Bill 91 contains an emergency clause, making the law effective immediately.