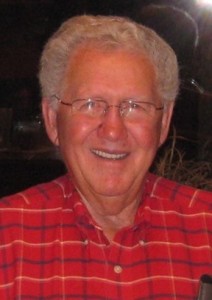 Paul Randall Vaughn was born on August 25, 1940 to Lyle and Cecil (Alexander) Vaughn on the family home south of Herrick, SD near the Ponca Creek. Many adventures were had growing up along the "crick" with siblings AdaMae, Sonny, Inez, Ray, Rosemary, and the twins, Sharon and Karon.
Paul attended grade school at St. Charles, SD and graduated from Bonesteel High School in 1958. While in high school, he was very involved in sports including basketball, football, and track. Immediately upon graduation, he attended summer school at Springfield Southern Teachers College. That fall, just turning 18 years old, he began a 17 year teaching career in the surrounding area mainly in country schools. Some of his most memorable teaching years were spent in the Iona, Carlock, and Herrick area. During much of his teaching career, summers were spent hauling small square bales to make ends meet!
On August 1, 1959, Paul along with his brothers were involved in a devastating automobile accident near Atkinson, NE. A month long hospital stay resulted, in which 14 days were spent unconscious with both jaws and his nose broken. The accident was something he spoke of often.
Paul met the love of his life, Betty Manke, at a dance in Colome, SD. They were united in marriage on November 3, 1962 and to this union one daughter, Rhonda Lou was born. Paul was baptized and confirmed into the Lutheran faith. He was a member of the St. John Lutheran Church serving as elder, usher, and various other positions. He enjoyed Sunday morning Bible studies and fellowship. His church life was very important to him.
Paul never met a stranger and enjoyed visiting and getting to know people. So in 1968, when he became a charter insurance agent with Continental General Insurance Agency, it was a perfect combination. Along with his wife Betty, Paul began the Vaughn Insurance Agency. He continued in this career until the time of his death. He built a reputation of customer service, and would try his best to ensure that his customer's claims were met. He spent many hours on the phone negotiating with hospitals, clinics, his own insurance company, and even Medicare. During his successful career he was awarded for his accomplishments. He was particularly proud of achieving 781 weeks in the app a week club. Also notable was attaining membership in the top life insurance sales in 1991 and being named his company's Top Health Individual Producer of the Year in 1993.
In 1995, after years of saving and planning, Paul and Betty were able to build their dream home east of Gregory. Paul thoroughly loved his house, his yard, watching the trees grow, and sitting on his porch watching the traffic go by.
Paul loved sharing a good story, playing a game of cribbage, dancing to a good old song, watching his corn and hay grow, playing a competitive game of pool, watering Betty's flowers, spending time in his home, driving old white Cadillacs, telling stories about his 57 Ford, and enjoying anything his daughter Rhonda was involved in. Paul and Betty were known for their dazzling Christmas displays. He was an avid fan of the Gregory Polka band where he loved to hear Rhonda's saxophone. He was proud of his son in law Tom Waterbury and would jump at the opportunity to help him any chance he had. Paul was an extremely prompt person, and being on time meant being there early.
Paul struggled with several health issues the last several years, but he continued to maintain his business. However, on Feb. 2, 2016, he was diagnosed with pancreatic cancer. Even though his body was weak, he chose to battle this horrible disease. He put up a brave fight, but lost his battle on May 16, 2016. He passed away peacefully surrounded by his family at the Burke Community Memorial Hospital at the age 75.