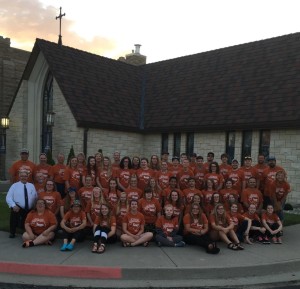 Seven members of Winner United Methodist Church were a part of sixty youth and adults from Beresford, Brookings, Huron, Montrose, Piedmont, Pierre, Sioux Falls, Spearfish, Valley City, Winner, and Yankton, spent a week in southern Texas serving six immigrant families.
Six teams were blessed to meet and form relationships with the members of the families that they served. Three of the six teams roofed houses, one team sheet rocked and painted one home's interior, one team wired and sheet rocked another home, and the sixth team repaired a ceiling, installed a linoleum floor, and repaired some windows in a home.
"A key phrase that became a part of this mission trip was 'then this happened'."  As a whole, we experienced the hand of God at work in and through us," said Pastor John Britt, Winner of UMC and one of the coordinators for the mission trip.  "Of particular importance on the trip was the 'multiplying money' experience."
On the first day Steve Hilton, one of the trip coordinators, found a dollar in the parking lot and simply asked, "What should we do with this"?  He placed the dollar bill on the front counter on the bus and the next day it became two dollars. The next day it became four dollars.
After posting the pictures each day in worship, on Tuesday one of the youth asked what was up with the dollar bills.  Hilton explained that the money was multiplying and we were pondering what to do with it. That night Pastor Corey Enfield, Yankton UMC, gave the message and spoke of loving others as Jesus first loved us.  His message impacted two of the young men on the trip.  They cornered Hilton and Britt after worship and wanted to talk about "something serious".
The two young men handed over $120 and the group talked about what to do with the multiplying money.  Wednesday morning before work everyone gathered together and posted the new picture with the exponentially multiplying money.  The mission trip coordinators invited other youth and adults to become part of this.
And "then this happened"—by the end of the day, there was enough money to purchase five $150 gift cards at Wal-Mart.  Five teams gave the gift cards to the families they were serving before leaving the job sites on Thursday.
You may be wondering why only five teams got a gift card—that's another story. Several of the families that were served expressed their thanks by offering food to the Dakota Conference teams.  It was all they could offer but it was deeply appreciated by the youth and adults that received this blessing.  For one team, the family let them know that they would like to cook them lunch on Wednesday. But when the team arrived Wednesday morning, Edith, the mother, was very upset.  She let one of the team leaders know that she received word that the stove, which was the center of the family life, would be repossessed that day.
And… "then this happened"—after some quick conversation amongst the work team, some time in prayer, and a few phone calls, a plan was set in motion.  Instead of a $150 gift card, this family received a new stove from the team serving them!
These two stories are just a glimpse of how God was active and present for those travelling to Texas from the Dakotas Conference.
Pastor John said, "The mission trip to southern Texas was such a blessing to the six families we served. But even more so, it was a huge blessing to all who were a part of the work of God amongst the people of God. For the opportunity to love and serve in the heat of Edinburg, Texas, we say thanks be to God!"
A month later, Pastor John and two middle school youth were a part of a group of twenty-one youth and adults who went to Denver in early August on an "urban plunge". On our first day, we learned about the realities of living in poverty and about being homeless. Through a poverty simulation activity, we learned that some parents must decide between putting gas in the car to go to work and buying food for their children to eat. We followed this up by trying out the "Food Stamp Challenge". We each had about $1.70 to eat lunch on – that is the average per meal a person has when living on food stamps. We went in groups to the Dollar General and five of us ate on $7.00. Lunch was much less than we expected!
Over the next two days, each team took turns serving breakfast at 5:30 a.m. at the Denver Rescue Mission. There we served breakfast to about 200 people. Our teams also worked at the Food Bank of the Rockies (a huge food bank) sorting over 18,000 pounds of food and at the Denver Urban Matters location where we sorted lots of food and also stocked food on the free pantry shelves. Our whole group also spent two afternoons at ARC Thrift Store sorting, cleaning, pricing, stocking, and moving a wide variety of merchandise. Each experience was a great way for our youth and adults to build compassion and empathy for those in need.
The youth of our church look forward to being in mission again next summer. These were great trips that helped us grow in our love of God and of our neighbors as well!