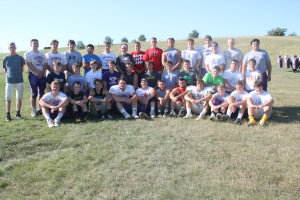 By Dan Bechtold, Editor
Expectations are high for this year's Winner High School football team.
It you are a numbers person the Warriors put up some amazing stats last year.  Here are some figures: 12-0 season, Class 11B champs, average 50 points a game and 37 returning lettermen.
Last year the Warriors were crowned the Class 11B champions with a 45-6 victory over Tri Valley.
The Warriors open the season on the road when they travel to Mobridge Aug. 26.
The returning lettermen are: Jordan Turgeon, Matt Smither, Isaac Naasz, Krockett Krolikowski, Wyatt Ewing, Ty Bolton, Chase Kingsbury, Jayden Schroeder, Zach Lapsley, Taylor Watzel, Logan Tunnissen, Casey Stickland, Trey Welch, Nolan Sachtjen, Carter Brickman, Levi McClanahan, Riley Calhoon, Nate Smither, Avery Gilchrist, Shea Connot, Cameron Kuil, Brandon Volmer, Tristan Watzel, Colton Schroeder, Chet Bryan, A. J. Rouibideaux, Payton Antoine, Dalton Baker, Nick Lantz, Justus Gregg, Ryan Sherman, John Kludt, Kayleb Brozik, Tyson Westendorf, Drew DeMers, Elijah Blare and Rhys Middlesworth.
This year there are 18 seniors on the team, 11 juniors, 11 sophomores and 11 freshmen.