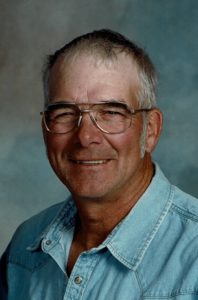 Funeral services for Charles Edward Vobr, 73, Colome, were held June 16 at Calvary Chapel, Colome. Burial with military honors followed at the Colome City Cemetery.
Charles Edward Vobr was born on June 9th 1945 to the parents of Albert H. and Kathryn Vobr, the 6th of 10 children. Charley was born in the Joey Holden home with Margaret Holden assisting with the birth. Albert's family moved to various places in his childhood. They settled in the Bagley, Minn., area in 1957 where Charley graduated from Bagley High School in 1963.
Shortly after graduation, Charley joined his brother Al working for the Brezina Cattle Company south of Colome. That is where he met Judi, and they were married on Oct. 23, 1965. Charley then joined the South Dakota Army National Guard on Aug. 22, 1966 taking his basic training at Fort Lewis, Wash. He was honorably discharged upon completion of four years of service.
In 1967 they purchased land where they built a home and still reside today. To this union 4 children were born, Paula Rae, Melanie Jean, Valerie Dawn and Matthew Charles.
Alongside of being a full time farmer/rancher; Charley enjoyed feeding cattle, harvesting crops, trucking for Engel Trucking, and occasionally helping out his neighbors. He also enjoyed cheering on the local teams of the Cowboys and Cowgirls. He was very supportive of his children and grandchildren in all sports. He was involved in several activities; his favorite was running the time clock at the Fetzner Field for the Colome Cowboy football games. He also was a church board member of Calvary Chapel and Sunday school superintendent, Colome School Board Member and Chairman, American Legion member also participating with honor guard. One of the many things that were important to him were his siblings, they chose to get together yearly with this year being the 40th family reunion.
Charley is survived by his wife Judi and children; Paula (Jerry) Hrabanek, Melanie Cole (Roy Stevicks), Valerie (Scott) Horgen, Matt (Desirae) Vobr; grandchildren Kristen (Duane) Wetzel, Jake Hrabanek (Jesse Ulrich), Ethan Vobr (Tasha Welch), Evan, Adam, Joey Cole & Mattie, Allison and Jacob Stevicks, Ezra and Micah Horgen, Eli, Rayma and Kyler Vobr; Great-grand children Keira, Tyson & Cody Wetzel & Bentley Welch. Siblings: Margaret, Albert (Ardith), Ted, Helen, Joann (Jim), Fran, David, Larry (Loretta), Philip (Nan), and many nieces and nephews.
He was preceded in death by his parents Albert and Kathryn Vobr, and parents' in-law Gus and Orene Weidner, and several brothers-in-law.